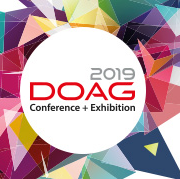 The DOAG Conference 2019 in Nuremberg was again a great success!
Thank you for visiting our booth no. 236
It gave us great pleasure to talk to you personally about current and innovative topics related to HL services as well as the current features in the area of ​​HL monitoring.
Especially our newest solution "TimeTracking-online", an innovative time recording for a new togetherness, has generated a lot of interest and was very well received by the participants. Convince yourself of how easy it is to record and evaluate working hours and overtime (via all mobile devices). With the unique Attendance Dashboard – informed and always involved.
A few impressions of the DOAG conference can also be found on our Instagram account.
The lectures of our experts can be found here.